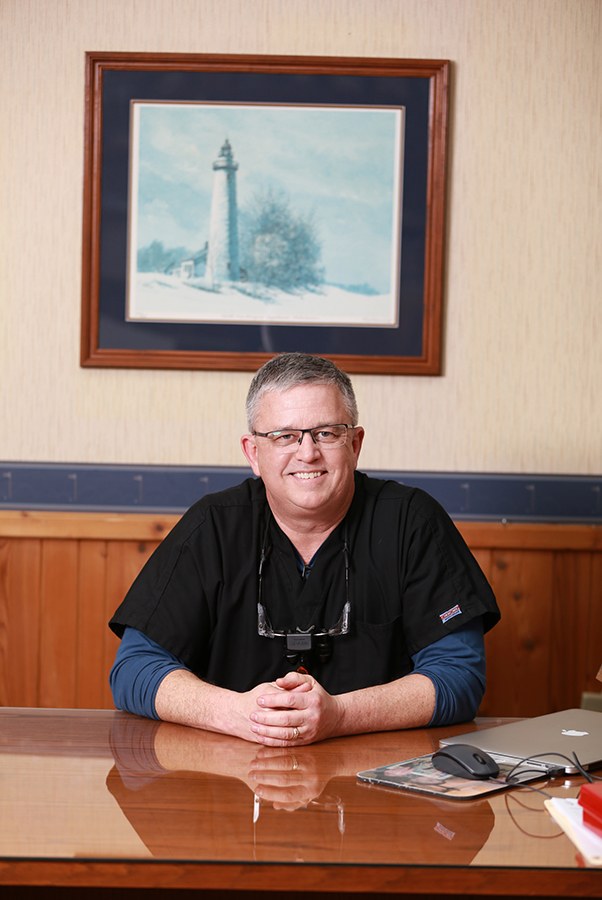 Robert VanDeVelde, DDS
Dr. VanDeVelde graduated from Warren High School in 1978 and completed his undergraduate work at Michigan State University. He earned his DDS degree at the University of Detroit School of Dentistry in 1985 and was in private practice in Clawson, Michigan before joining the United States Air Force Dental Corps in 2003. During his service, he completed 2 years of advanced education in a general dentistry residency program at Lackland Air Force Base at the Wilford Hall Medical and Dental Center. He received board certification in 2006. He was also the Deputy Director of United States Air Force, Wright -Patterson Air Force Base, completing a year of advanced education in the general dentistry residency program in 2007 and in 2008.
Dr. VanDeVelde has found his work at VanDeVelde & Matheson DDS PC to be the perfect opportunity following his time in the Air Force. During his service, his training was geared toward being one dentist in a remote location, providing a variety of services. The rural setting for our practice has suited him very well. He and his wife Sandy feel that have the best of both worlds. They enjoy everything that Michigan's Thumb has to offer in experiences and friendships. But, they also enjoy getting away to the city to see their children.
In many ways, Dr. VanDeVelde is the "founding father" of VanDeVelde & Matheson DDS PC, having been a part of the practice since 2007 when he purchased it. He has over 30 years of clinical experience that he uses to be a mentor in the organization. But he also feels fortunate to work with younger dentists who possess exceptional talent. Together with our team, he has been able to create an environment that leads to continued excellence in patient care. He is proud of the care we provide, and thankful for the professional relationships at our office.
Dr. VanDeVelde and Sandy have four daughters: Stephanie, Kate, Jamie and Kristen and six grandchildren, Ella, Ben, Noah, Molly, Shayn and Wren. They feel truly blessed and enjoy many activities with their family, often related to sports or in the outdoors. They are proud parents and grandparents who are looking forward to more grandchildren and fun times with family in the future. Dr. VanDeVelde is very family oriented and most of his interests center around the family activities. Those activities include boating, skiing, snowmobiling, Jeeping, quad rides around "the farm", campfires and hanging out outdoors. He also looks forward to special family trips with his daughters and their families.
---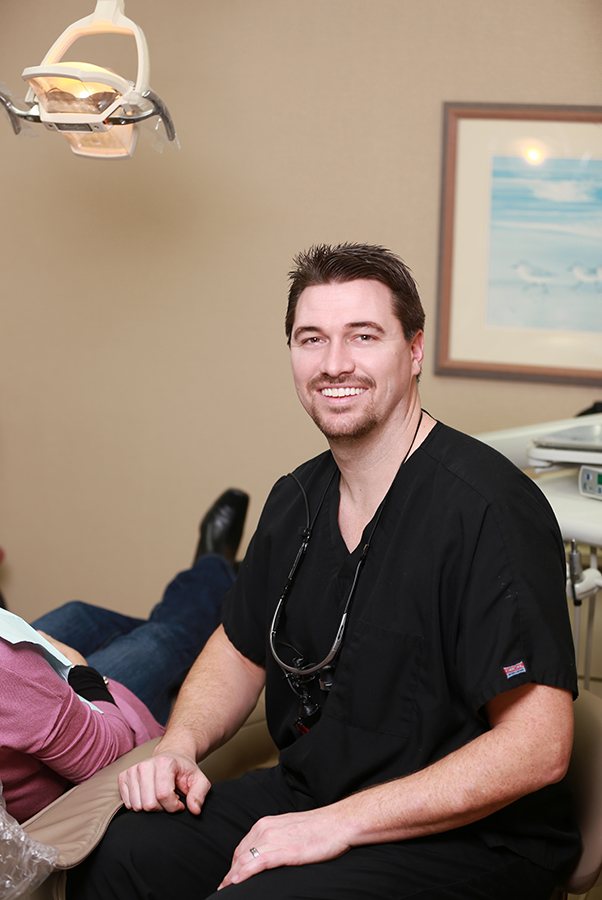 Ross R. Matheson, DDS
Dr. Matheson has been with our practice since 2009. He received an Associate of Science degree from Oakland Community College in 2000, and graduated from Central Michigan University with a bachelor's degree in biology in 2002. In 2006 he earned his DDS from the University of Detroit Mercy School of Dentistry. He also completed one year of advanced education in a general dentistry residency at Wright-Patterson Air Force Base, as a member of the United States Air Force.
Dr. Matheson appreciates the fact that everyone at VanDeVelde & Matheson DDS PC works as a team to meet the dental needs of our patients. He enjoys all aspects of dentistry from fillings to root canal treatments, from extractions to dentures and from wisdom teeth to dental implants. Dr. Matheson believes in compassionate dentistry, and makes sure that each of his patients feel as comfortable as possible during their visit. He makes sure to listen to all of their concerns and to explain all of the available treatment options.
Dr. Matheson is married to his wonderful and beautiful wife Melissa who has a heart of gold. They have four children: Gracie, who enjoys playing softball; Will, Hudson and Beau. Dr. Matheson and his wife also mentor a child from Detroit who is in foster care. Away from the office, you can find Dr. Matheson playing hockey, football, basketball, golf and softball and working out. He loves being with his family skiing, snowboarding and hitting the water for a little boating, wake boarding, wake surfing and water skiing. He and his family look forward to camping, hunting, fishing and traveling. They also enjoy church activities together, and Dr. Matheson likes to take time out for wood working.
---
Meet Our Team
Our friendly team at the office of VanDeVelde & Matheson DDS PC is dedicated to helping you and your family achieve excellent oral health and beautiful smiles. We work hard to create a comfortable and positive environment in which you can feel at ease. Give us a call today to learn more about dental care in Bad Axe, Caro and Marlette, Michigan, and to schedule your appointment with one of our experienced dentists.
Check back soon to meet our amazing team!